WAMC 90.3fm Broadcasts Travel Info That Needs Fine-Tuning According to Travel Expert Stephanie Abrams
January 15th, 2020
Is that London England? No, it's Lake Havasu City's London Bridge Transported from London Stone-by-Stone.
Far too often, on network TV and local radio shows that I listen to, a travel professional is invited on the air to take calls and discuss travel. Let me first state that no one is an expert on everywhere. But knowing where to direct people to get the most important information on a particular style of traveling, from types of cruising to unique lodging options to destinations off the touristic trail that 80% of American travelers go to, is a valuable assist. Regrettably, I cringe too many times while listening to people in broadcast media sharing completely erroneoustravel information with the public.
In my heart I am a travel agent. I understand what a good agent is capable of doing for his/her traveling clients.  But if you are going to a particular destination and you're getting less than robust, compelling and quality information, you should consider seeking out an agent with serious knowledge and experience in the destination(s)  that interest  you. Virtuoso, a consortium of agents with a reputation for having the skills necessary to handle the needs of clients looking for luxury in their travels, domestically and internationally, has a place on their website where you can search for a travel agent with expert knowledge listed by destination. If you don't see the destination you are interested in, there's a spot to search for your heart's desire. This link will take you to the Travel Advisors section of Virtuoso's website where you'll get info on each of the Virtuoso agents who has achieved certification and/or other verifiable skill/knowledge levels related to the destination you are interested in. . . which is better than an answer that you need to come in to the agent's office so you can sort it out together. . . which I have no clue what that means when a straight-forward  question on a destination is asked and receives no answer of any value!
Here are just a few of the questions callers asked in the course of a feature with a travel agent on an Albany, NY radio station, some insights into her answers and a bit about what the answer should have contained even under time pressure  and the  stresses of being put on the spot on a live call-in radio show:
1. The caller has seen most of Spain, is headed for Barcelona and wants to, very specifically, rent a car and travel north of Barcelona. This is an under-visited area by US/North American travelers so it's no wonder the agent displayed no knowledge of where to go  or what to do/see in that region. So she told the caller  what she knew and what she was experienced in which was not the answer to what was asked.  The agent directed the caller to drive to Seville, Granada, and the Costa del Sol, indicating places around Malaga, an area rich in touristic interest sought out mostly by Europeans but Americans as well. That region, which abuts the Mediterranean Sea, is as far south as you can get in Spain and to get to Granada , a 424 mile drive from Barcelona, much of which is through  mountainous terrain through the Sierra Nevada Mountains, sightseeing is slim-to-none during much of this trip. Much of the trip is quite tedious and almost treacherous and the mountains are sometimes snow capped no matter what month you visit. I have driven this route and it's not something I'd choose to do again!
The bottom-line: Start with this:  Going to the Costa del Sol through the Sierra Nevada Mountains  is not an itinerary north of Barcelona! So the answer was about what the agent knew and not about what the caller asked, something travel agents are accused of doing regularly and which does not elevate the reputation of the value of using an agent. The answer is that there are small towns and villages just north of Barcelona along the region of Spain called the Costa Brava which is in Catalonia, not Galicia as noted by the agent which is in the northwest of Spain. North of Barcelona is a small town/city called Cadaques where  Salvatore Dali had a summer house which is now a museum home. The town hugs the shoreline and is on a bay and reeks of old world charm. Just north of that is what I like to call, "The Poor Man's Riviera," where a town called Roses attracts people from most of Spain, is a seaside resort with a good beach of decent size but don't expect sugary sand. From there one can venture into the Principality of Andorra and/or cross the border into France. One can also go northward to Pamplona, where the bulls run through the streets every July 7th, but for me it's better to be there any other time of year other than that day!! Not far from Pamplona is the rockin' town of San Sebastian, great for nightlife,  which abuts France and is about 30 miles south of the posh French city of Biarritz which is loaded with American links because of the US Army's base there in WWII at what is now a grand hotel, Hotel de Palais, which was built by Napoleon III for his Spanish wife, Eugenie, so she could be close to her mother in Spain. Driving from Spain into France means crossing more mountains and some driving, and one-way drop off charges for the car if you fly back from France, so it makes more sense to arrange to drop the car in Spain if you want to go into France, take the train to Narbonne, France, pick up a  car there (the big name companies have branches there) and drive to Lourdes which is a fascinating visit to the Shrine that lives on in memory of miracles there starting with the little girl, later named a saint, Bernadette (see the classic film, Song of Bernadette), and then onward to Biarritz with potential visits to Bayonne (a NJ city is named for that city and it's the place the 'bayonet' was invented) and visit  the 500 year old chocolate factory established during the Spanish Inquisition when a Jewish chocolate-maker grabbed his family and equipment and ran to France to set up shop. There is also a magnificently interesting museum  depicting life in this Basque region of France and the food and culture of the Basque region and its quaint villages make it worth the trip.
The car can be dropped in France and, since it's a French rental, there is no inter-country drop fee which often can be as costly as a one-week rental but there still may be a one-way drop-off fee if you pick the car up in, for instance, Narbonne, and drop it at your last stop or airport location so check to know what to expect!
Alternatively, if the people just explored Catalonia (north of Barcelona) and dropped the car at a location near a train station they could return to the  airport to fly home which might be Barcelona or Madrid, giving them another  unique experience different from back-track driving. That is a very different trip from visiting the well- trodden touristic trails of Seville, Granada and the Costa del Sol which is where 80% of US visitors to Spain go along with the rest of European travelers, and a region that this caller had already visited. The woman had seen all of Spain already except for the northeast corner so the agent sent her to the south. Ugh!
2. LONDON BRIDGE:  My very first thoughts about the caller's question, "Where do you take children in London, England?"was not London Bridge whose value is not its modern architecture of concrete and steel. built in the early 1970's, but when London Bridge is mentioned I immediately think of Lake Havasu City, Arizona  since around 1969 the failing bridge in need of repair/replacement in London was bought by a local Arizona tycoon, disassembled stone by stone in London, shipped to Arizona and re-erected in Lake Havasu  City  as a tourist attraction just about 50 years ago.  The value of  going to the bridge that stands in its place in London today is for its use to cross the river. Otherwise, skip it!
Especially when traveling with  children, who generally have limited stamina and attention spans regardless of their ages, but also for adults as well who will enjoy the experience and efficiency of learning about almost any city of choice, including London, England (important to mention to differentiate it from London, Ontario, Canada),  the first thing you'll want to do is to take a half-day city tour with a local sightseeing tour company which you can buy into once you're there to sync with when you are over jetlag so you're not all falling asleep on the bus! This will give you a relaxed overview of what is there to see and an opportunity to evaluate and  decide  what places you want to go back to visit in-depth later. Once you have the lay of the land and you've seen places that particularly interest you, you can visit by using the "Tube," London's well designed subway train system, noting that the "Underground" is the  train and the walkway to get to the train is the "Subway," just opposite of how we describe such venues in the US, or buy tickets on a Hop-On-Hop-Off  bus so you can go these sites with real efficiency of time and cost to get around. This link will take  you to  a company that gives  you this unique sightseeing option. Uniquely, in London, some companies run open air double-decker buses so if  the weather permits you'll have another  unique experience that  kids will either love or they will have the option to sit inside because  they prefer that! \ You will often see tourists wearing rain panchos sitting in the rain on the upper deck of London buses and sightseeing buses! You can count on my not being among those hale and hardy souls who choose that approach!
Choose an itinerary that stops at (usually the last stop) at the Tower of London which is filled with history (macabre at that!) and you'll also get to visit the Queen's Jewels. . .the diamonds and emeralds are amazing and Mom will enjoy that!  This falls into my "Platinum Experience" category since it is an authentic step into British history as opposed to visiting a "Plastic Experience" at a theme park offering a visit to a resin and cellophane tape castle-style structure.
By ending your tour at the Tower of London, passengers can, generally, return to the starting point with the bus OR disembark at the Tower of London  and invest as much time as they wish exploring, learning and enjoying this British historic site.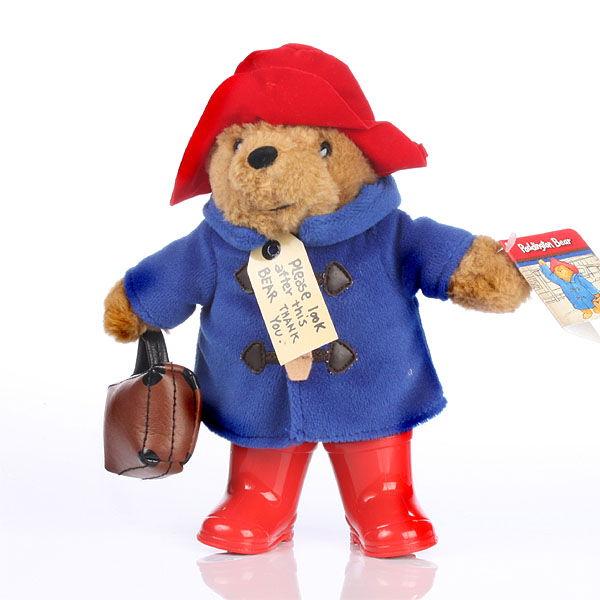 Take a side trip to Windsor Castle, which you can do by  train  from London's Paddington Station (filled with kiosks selling Paddington Bears from tiny, key-chain size to 6 feet tall and worth some good photo ops. . . .especially appealing to kids) to Windsor Castle which is about a 50 minute lovely train trip. It may take as long in a taxi or rental car because of local traffic so taking the train has its value in that regard. Or there  are sightseeing buses you can buy into. You'll find brochures in every hotel lobby or concierge's desk as well as in tourist info centers and frequently in restaurants where you'll find racks galore! But if you are in a hotel with a concierge, make use of that service. Concierge service will cost you nothing except the cost of tickets purchased, any fees added to those tickets if there's a ticket broker-middleman involved in getting the tickets, especially for plays  and concerts, but, unless the concierge goes to extreme lengths to assist you, no tip or payment is expected. If all you need is info on how to get somewhere or what the hours of operation are at a museum, castle or other touristic venue or when the train you need is running, that's part of the service you are paying for when you are staying at a fine hotel.
Also consider a side-trip to Hampton Court Palace, featured in Reese Witherspoon's film, "Vanity Fair," home of Henry VIII, full of history, and be sure to take the kids into the maze in the garden there. The hedges, unlike most mazes with 12″-18″ boxwoods to  walk around, has hedges that are about 7 feet tall, or taller, so you can't see over  the top. It is  a very challenging maze and was the "after  lunch/teatime/cocktail hour" entertainment at the palace. You'll walk the halls of history where Ann Boleyn was chased down the hallway to be grabbed and taken  to  the Tower of London to be beheaded for infidelity (that may have been "fake news" invented by Henry VIII in order to dump her!) and this will tie together nicely with the visit to the Tower of  London especially seeing the contrast of where Henry's queen lived and where her life, and the lives of others seen as criminals and enemies of the throne, ended!
Trust that seeing the giant Ferris wheel is enough of an experience of something you can do  at Coney Island, Branson, MO, or other amusement park venues. Opt for tickets (much, much cheaper than Broadway) to a play in London (note that programs are available for a fee and are not gratuitously provided as you'd expect at a Broadway play and anyone who ushers you to your seat is expecting, unlike US theater ushers, to be tipped),   followed by a meal in the theater district at Rules, a restaurant that is now 222 years in operation and people like  Buster Keaton, Stan Laurel, Charlie Chaplin, Sir Laurence Olivier Charles Dickens, HG Wells and Graham Greene dined there. This is a good chance, when traveling with children, to introduce them to a unique historic restaurant and to a bit about those cultural icons who dined there.  King Edward VII romanced Lillie Langtry there. The menu is generally a bit pricey, but so is almost everything in London, and there are exotic items like rabbit and venison on the menu but there's always poached salmon with dill sauce that is delightful and a couple of other blander items. Checking ahead for menu items is a good idea but even just stopping by to take a peek should be on the itinerary (Soup/salad/dessert always worked for  our kids when menus were a bit sticky to deal with!). The sense of culture, refinement, and history in this place is in the very air you'll breathe there. I took my son there for the first time when he was 14 just after we say "Miss Saigon!" Neither of us will  ever forget the experience. . .which is so much more powerful than dropping  by to see the new London Bridge  built in 1978  and of no historic or architectural consequence. The restaurant even has a charming address as it is in the theater district tucked away on Maiden Lane in Covent Garden!
Lastly, for a bit  of  a very worthwhile and extraordinarily memorable experience, take what used to be called the Venice-Simplon Orient Express, now the Belmond  British Pullman, from London for a day trip into the country side. See if there's a departure for  Bath, where you get to see this city that they still use in films when they want to show London in the 1800's Note: they spread mud in the street and put horse-drawn coaches into the scene and, voila, London! But it's Bath!), and whisk  off to Stonehenge. Some of these sightseeing-by-luxury-train experiences do not disembark passengers in Bath but turn around and go back to London).  There is one itinerary, if available when you are there, takes passengers by motorcoach to Hever Castle where Anne Boleyn lived with her family before she married Henry VIII so if you plan to visit Hampton Court Palace and the Tower of London, this visit to Hever Castle will complete the triangle of childhood-to-marriage-to-beheading.  You'll find that these visits will add much more impact to the memorability of the visit than riding the Ferris wheel that is better left to an another time and another place experience.  When you take this route, you meet the train when it emerges from the Chunnel coming from France and you enter the posh surroundings aboard that you see in  all of the Agatha Christie films of parlor car-dining car  interior where you are beautifully served in amazing surroundings with fabulous views as you make your way back to London. While  the cost is about 200 British Pounds Sterling, the dollar is so strong at the moment that everything you do is a real bargain to be had before economics change. Today, the exchange rate is $1.25= £ 1. which is a fantastic rate. Two years ago, it would have been $1.78 (or more) =£ 1.
3. The next caller asked about car rental insurance for  Ireland: On my last trip to Ireland, I was so accustomed to the "must buy" CDW (Collision Damage Waiver) that is required by the Irish government that would not allow renters to use their credit card company's coverage, that we bought the insurance which was equal to the cost of our 18 day car rental. . .an amazing rip-off but a necessity. I, regrettably, forgot that American Express made a deal with the Irish government so if you are an AmEx member the travel insurance benefits on the card now cover cars rented in Ireland by AX cardholders when the charge for the car is paid for with an AmEx card so that is a HUGE savings to travelers and that alone justifies the credit card fees for membership as an AmEx cardholder for  those whose credit history qualifies them for inclusion. There is a long list of reasons/features/benefits for travelers to use American Express for their credit card needs especially related to travel and this is just one of so many!
NOTE: If you buy any tour package that includes a car rental and pay for it with a credit card, the travel benefits on the card do  not transfer to that transaction as you are buying the tour from a tour operator or travel agent and NOT directly from the car rental company so if you are renting a car the car rental company must be paid directly by the renter and not a third party in the middle who makes the transaction. I can tell you stories that would make your hair stand up  about people who thought they were covered for the car rental that was part of a fly-drive package only to total the car and find out they had NO COVERAGE AT ALL as it was not a direct transaction between the renter and the car rental company. NOTE: Your car reservation must be directly between the renter and the car rental company. You will not receive the travel benefits associated with any credit card if you pay for the car rental through a tour operator or other third party or receive the car rental as part of a fly-drive or hotel-and-car travel package! This is very important! So if you are buying a package or tour that includes a car, you MUST buy additional insurance to cover CDW and liability and anything else you want to cover as your credit card insurance benefits will not pass along for this rental.
4. A woman who was trying to weigh the value of, perhaps, traveling alone or finding a group of like-minded women to travel with wasn't given much in the way of good advice. I hope she reads this blog as I'd suggest the following:  It was my impression that she was over 55 years old and it occurred to me that she might want to investigate Road Scholars, which used to be called 'Elder Hostel,' which does unique destinations and exciting experiential itineraries all over the country and the world. There is also a special tour operation for women-only called The Women's Travel Group, founded and operated for about 30 years by Phyllis Stoller.  I hope the caller connects with this blog and does her due diligence to check out The Women's Travel Group to see if it's a good fit for her.
It's a bit upsetting to hear people give advice on radio or TV,  or just as often in print, many of the items printed in guidebooks that only present hotels where the hotelier has paid to be included,  when there's no one available to fill in the blanks, make minor adjustments to information gaps and fine-tune incomplete, erroneous and inaccurate impressions left with the audience. Note that if you have any questions you can go to Traveleres411.com and click on FORUMS. If you scroll down the list of FORUMS subject areas, you will find a place that says, "Ask Stephanie." You can also reach that location by clicking on "Ask Stephanie" on the navigation bar at sAbrams.com.  Once at Travelers411.com, click on REGISTER and give yourself a User Name and Password which will then allow you to sign-in and be able to write as well as read.
Getting correct information is a blessing and a giving it is a unique trust.
Be careful whom you trust, which would include anonymously offered reviews and critiques online, which when I read them I often think that this the person who has written the critique is not well-traveled!
Travel Richly!
---